The Storm Basketball club is a premier youth organization focusing on teaching and inspiring young athletes, who possess a passion for the game. Team Taurasi is one of the largest and most recognizable organizations in the nation. We create a stepping-stone for young athletes that have the desire to compete at the highest level as well as beginners and intermidate level players who are just getting started. Teams will be formed in the Phoenix region.
The Storm organization provides the experience of competing at the local and national level while offering the opportunity of exposure, which may lead to college recruitment.  Our main goal is to prepare the athletes for higher level of basketball competition.
Storm Basketball is for all ages and skill levels. Through our development program, your child will develop fundamental and advanced basketball skills, necessary to prepare her for a successful high school or college and professional career. All of storm athletes' move on to have successful basektball experiences always demonstrating a solid basektball foundation.
Our premier basketball program is unmatched in offering year-round training focused on proper decision making in game like situations, individual offensive skill development, strength, speed, and agility. We are very proud of our fundamental and educational program, which has proven to be one of the best in the nation.
Our program is dedicated to preparing our young athletes to compete at their highest level by teaching fundamental offensive and defensive skills that are integral to properly transitioning to the high school varsity and collegiate levels. Practices and Skills Training Sessions will be held in Orange County.
TRAVEL TEAMS AND AGE GROUPS
 We focus on teamwork, attitude, and commitment while teaching strong fundamentals and assertive play.
We prepare the young athletes mentally and physically for competitive basketball.
17U, 16U, 15U, 14U
13U, 12U, 11U, 10U, 9U, 8U
Tryouts are open to players of age 10U to 17U. Players interested in trying out should complete this brief tryout application form.
Youth Tryout Dates
Date
Grades
Times
School
Submit an Online Application
November 14 & 16
4th - 8th
5:30 PM - 7 PM
Liberty High School
Peoria, AZ
Submit an Online Application
[/column]
 PLEASE CLICK THE BUTTON BELOW TO SEE OUR MOST UPDATED UPCOMING SCHEDULE.
Coach: MJ Walker & Shawn Jones
MJ Walker | Head Coach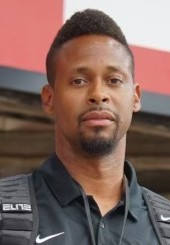 Coach M.J Walker has been engaged with developing and building youth over the past decade in Arizona. After playing in Oregon with the IBL he moved onto the UBA (Universal Basketball Association) in Texas and then the NBL (National Basketball League) in Canada. He then played Professionally overseas in the European leagues and in Central America in countries including Germany, Costa Rica, Nicaragua, Columbia, Panama, and Honduras. After winning an international Championship in 2012 with the "Tiberones" he retired and returned to Arizona. Coach MJ has guided many athletes through the transition to collegiate level play and has a growing roster of Walker Elite alumni playing NCAA Division 1 basketball. He has great pride in coaching and truly enjoys being a part of the journey of young athletes to their greatest potential.
.