George Quintero has developed hundreds of collegiate and professional players throughout his career. GQ leads our Elite Skills training sessions and offers a creative approach to developing young athletes.
Advanced specialized basketball instruction, Pro Level offensive moves, elite off the dribble skills and advanced perimeter shooting, Unstoppable  Offensive counter moves and a variety of finishes at the rim!
Use your mobile device to register below to reserve your spot!
All payments will be submitted through Venmo. Each session will be $25.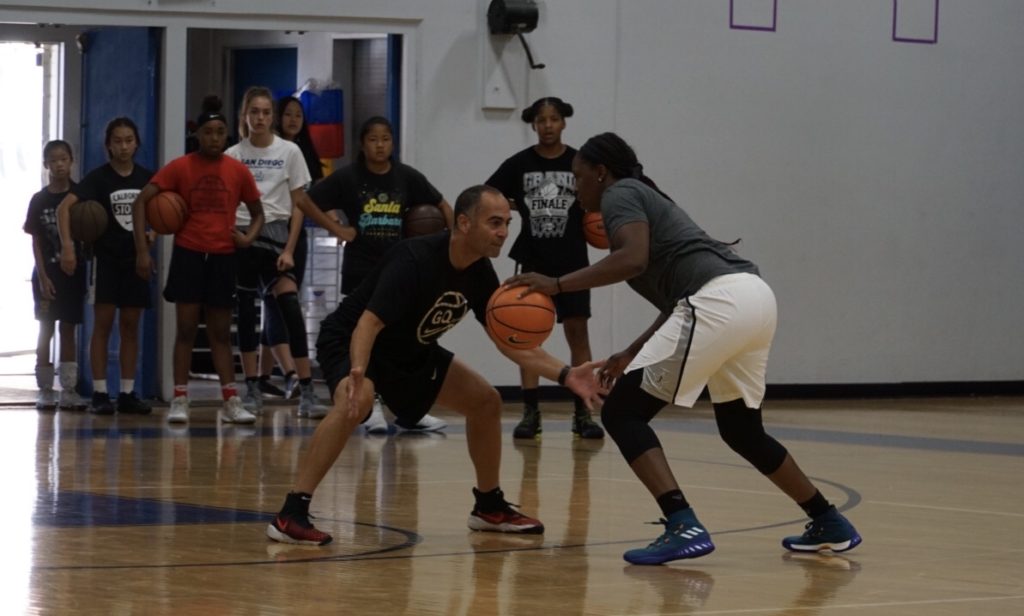 GQ Skills Training Schedule
| Date | Time | Information | Venue/City |
| --- | --- | --- | --- |
| Friday, September 10 | 400pm - 530pm | Ages 12- 17 | St. John's Lutheran Church/Oxnard |
| Saturday, September 11 | 100pm - 230pm | Ages 12- 17 | Lincoln MS/Santa Monica |
| Sunday, September 12 | 100pm - 230pm | Ages 12- 17 | Lincoln MS/Santa Monica |
| Friday, September 17 | 400pm - 530pm | Ages 12- 17 | St. John's Lutheran Church/Oxnard |
| Saturday, September 18 | 100pm - 230pm | Ages 12- 17 | Lincoln MS/Santa Monica |
| Sunday, September 19 | 100pm - 230pm | Ages 12- 17 | Lincoln MS/Santa Monica |
| Friday, September 24 | 400pm - 530pm | Ages 12- 17 | St. John's Lutheran Church/Oxnard |
| Saturday, September 25 | 100pm - 230pm | Ages 12- 17 | Lincoln MS/Santa Monica |
| Sunday, September 26 | 100pm - 230pm | Ages 12- 17 | Lincoln MS/Santa Monica |
| Friday, October 1 | 400pm - 530pm | Ages 12- 17 | St. John's Lutheran Church/Oxnard |
| Saturday, October 2 | 100pm - 230pm | Ages 12- 17 | Lincoln MS/Santa Monica |
| Sunday, October 3 | 100pm - 230pm | Ages 12- 17 | Lincoln MS/Santa Monica |
| Friday, October 8 | 400pm - 530pm | Ages 12- 17 | St. John's Lutheran Church/Oxnard |
| Saturday, October 9 | 100pm - 230pm | Ages 12- 17 | Lincoln MS/Santa Monica |
| Sunday, October 10 | 100pm - 230pm | Ages 12- 17 | Lincoln MS/Santa Monica |
| Friday, October 15 | 400pm - 530pm | Ages 12- 17 | St. John's Lutheran Church/Oxnard |
| Saturday, October 16 | 100pm - 230pm | Ages 12- 17 | Lincoln MS/Santa Monica |
| Sunday, October 17 | 100pm - 230pm | Ages 12- 17 | Lincoln MS/Santa Monica |
| Friday, October 22 | 400pm - 530pm | Ages 12- 17 | St. John's Lutheran Church/Oxnard |
| Saturday, October 23 | 100pm - 230pm | Ages 12- 17 | Lincoln MS/Santa Monica |
| Sunday, October 24 | 100pm - 230pm | Ages 12- 17 | Lincoln MS/Santa Monica |
| Friday, October 29 | 400pm - 530pm | Ages 12- 17 | St. John's Lutheran Church/Oxnard |
| Saturday, October 30 | 100pm - 230pm | Ages 12- 17 | Lincoln MS/Santa Monica |
For additional information, text 310-985-1949 for further information