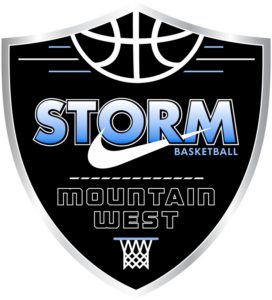 The Storm Basketball Club is a leading youth organization dedicated to fostering a love of the game and inspiring athletes to reach their full potential. As one of the most well-known and respected teams in the country, Team Taurasi provides a platform for athletes at all levels to improve their skills and pursue their dreams of competition. Our programs in Las Vegas and Reno, Nevada, offer opportunities for both seasoned players and those just starting out in the sport.
As a premier youth basketball organization, the Storm is committed to providing athletes with the opportunity to compete at the local and national level, while also gaining exposure that may lead to college recruitment. Our ultimate goal is to prepare players for higher levels of competition and help them reach their full potential on and off the court.
The Storm Basketball Club is designed to accommodate athletes of all ages and skill levels. Our comprehensive development program focuses on building a strong foundation of fundamental and advanced basketball skills that will set your child up for success in high school, college, and beyond. Many of our past athletes have gone on to have successful careers in basketball, thanks to the strong foundation they developed with us.
Our top-tier basketball program stands out for its year-round training that emphasizes proper decision making in game-like situations, individual offensive skills development, and physical conditioning. We are proud to offer a comprehensive and highly effective fundamental and educational program that has consistently ranked among the best in the country. Our program is designed to help athletes reach their full potential and succeed on and off the court.
The Storm Basketball program is committed to helping young athletes reach their full potential and compete at the highest levels. Through our focused training on fundamental offensive and defensive skills, we prepare our players for success on the high school varsity and collegiate levels. To facilitate this development, we hold practices and skills training sessions at the Las Vegas Basketball Center and gyms in the Reno area.
TRAVEL TEAMS AND AGE GROUPS
At Storm Basketball, we prioritize teamwork, attitude, and commitment in our training, while also teaching strong fundamentals and assertive play. Our program is designed to develop both the mental and physical skills necessary for competitive basketball success.
17U, 16U, 15U, 14U
13U, 12U, 11U, 10U, 9U, 8U
MOUNTAIN WEST REGION TRYOUT FORMS
Tryouts are open to players of age 10U to 17U. Players interested in trying out should complete this brief tryout application form.
MOUNTAIN WEST REGION TRYOUT FORMS
 PLEASE CLICK THE BUTTON BELOW TO SEE OUR MOST UPDATED UPCOMING SCHEDULE.