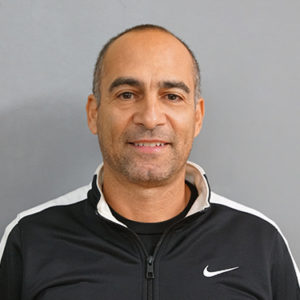 George Quintero | Head Coach

George Quintero is considered one of the most influential people in youth basketball. With a simple but intense practical approach to the game, he coaches and counsels every one of his players to become an exceptional athlete. George has coached elite-level youth and high-school club/AAU basketball across Southern California for 38+ years. His distinguished career has produced hundreds of NCAA Division I athletes and professional players across the globe.
George began his coaching career in 1985 at Santa Monica High School, where he dedicated six seasons as the assistant coach for the powerful boys' program. In 1987, the program captured the California Interscholastic Federation (CIF) Division IV championship. Since that time he has had successful stints as a head coach at South Torrance (1995-1996); Santa Monica Crossroads (1996-1998); and Los Angeles Marlborough (1998-2003), where his teams won the school first CIF championship.
In 1993, George Quintero founded Westside Basketball Club (WBC) in Santa Monica, which for 25+ years was one of the most well respected youth basketball programs in California. WBC focused on skill development for both male and female student athletes, and sponsored California's Finest Basketball Club. The top team became a powerhouse on the national scene, producing four McDonalds All Americans Noelle Quinn (UCLA), Jennifer Hall (Vanderbilt), Alexis Kendrick (Georgia) and Crystal Ervin (Notre Dame).
In 2006, George Quintero was named Director of Basketball and Head Coach of the California Storm Basketball Club. Cal Storm is one of the most respected and recognizable organizations in the nation. Cal Storm is an official member of the Nike Elite Youth Basketball League (EYBL). The Nike Circuit draws the best players/teams, in which hundreds of NCAA college coaches and recruiters attend to evaluate players. His no-nonsense approach to coaching and guiding athletes has become the cornerstone of Cal Storm's success and national reputation. He has built a brand that is unparalleled on the club/AAU scene and developed great players, in which college coaches across the United States look to his players.
Cal Storm's player development program is unmatched in offering year-round training. Under Coach George's tutelage, players are prepared to compete at their highest level by teaching them elite skills that are integral to properly transition to collegiate and professional levels. In his first eight seasons with Cal Storm, George oversaw the development of some of America's premier players, including USA Basketball Gold Medalist Chelsea Gray (Duke), Dianna Taurasi (UCONN) Oderah Chidom (Duke) and developed Jordan Brand and McDonald's All-Americans,Kendall Cooper (Duke), Alyssia Brewer (Tennessee/UCLA), Mariya Moore (Louisville), Valerie Higgins (USC), Justine Hartman (Cal), Gabby Green (Cal), Abi Olajuwon (Oklahoma), Leoanne Odom (Duke), and Alexis Kendrick (Georgia) Amber Melgoza (Washington) Hannah Stines (Washington), Elle Ladine ( Washington), Vanessa De Jesus (Duke) Kaitlyn Chen (Princeton) Rayah Marshall (USC) Aari McDonald (Arizona) Chloe Briggs (Washington) Skye Belker (Princeton) Ashley Chea (Princton) and so many more..In 2009, Team Taurasi was formed and Cal Storm became the first girls' basketball club in history to be affiliated with a professional athlete. The program is sponsored by WNBA Superstar and 5 X U.S. Olympian, Diana Taurasi of the Phoenix Mercury. Coach GQ has built a brand that is unparalleled on the Club/AAU space
.