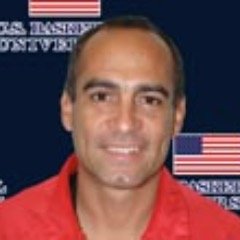 George Quintero
Head Coach George Quintero is considered one of the most influential people in youth basketball. With a simple but intense practical approach to the game, he coaches and counsels every one of his players to be exceptional "athletes." George has coached elite-level youth and high-school club/AAU basketball across Southern California for 35+ years. His distinguished career has produced hundreds of NCAA Division I athletes and professional players across the globe.

George began his coaching career in 1985 at Santa Monica High School, where he dedicated six seasons as a boys coach for the power house program. In 1987, the program captured the California Interscholastic Federation (CIF) championship. In 2002, George lead Los Angeles Marlborough School to its first CIF championships in school history.

In 1993, Quintero founded Westside Basketball Club (WBC) in Santa Monica, which for 20+ years was one of the most well respected youth basketball programs in California. In 2003, he established California Finest and the team became a powerhouse on the national scene, producing four McDonalds All Americans.
In total, George has personally trained and developed over 16 McDonald All-Americans.

In 2006, George was named coach of a Nike-sponsored club basketball programs and he currently is one of the directors for the Nike Elite Youth Basketball League (EYBL).

His detailed player development approach to coaching and guiding athletes has become the cornerstone of success and national reputation.
He has built a brand that is unparalleled on the Club/AAU space.